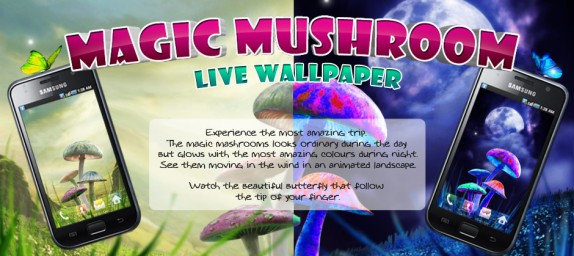 We have gotten a lot of interest for our "Magic Mushrooms Live Wallpaper" lately. Currently it's rated as the 27:th most popular "live wallpaper" on Android Market and it's slowly climbing to the top (we hope). Our live wallpaper shows mushrooms during both night and day. They gently sways in the wind. During the night, they glow with the most amazing colors.
The blog UR Android (http://urandroid.com) rated it as the 6:th (out of 10) of the best apps of the week (link) .
"Magic Mushrooms is a trippy live wallpaper where you can, well…watch mushrooms. It's a lot cooler than it sounds, they glow at night and actually do look pretty trippy. There are a few other customizable options thrown in there as well. No free version here, just the paid coming in at 1.63."
Little About (http://www.littleabout.com) rated it as a top 10 android Live Wallpaper (link).
"This is really amazing live wallpaper and highly customisable with stunning graphics. You see mushrooms on the screen they move in the wind along with an animated landscape. Tap the screen and you will find butterfly following it. The best part is that the mushrooms glow they reveal different colours in the day and in the night. At night they look spectacular."
Magic Mushrooms Live Wallpaper can be downloaded from the Android Market here.