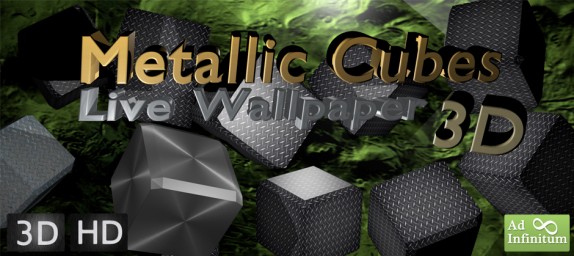 Description


With Metallic Cubes Live Wallpaper your screen will look amazing! The metallic cubes fly and rotate in 3D with tons of available live wallpaper settings. Choose one out of the many included themes or make your own favourite theme, with almost unlimited variations.
With many metallic textures to choose from (gold, silver, copper etc.) and almost full control of animations and camera behaviour, this live wallpaper will look more unique than almost any other available on the market today.
And.. it only takes less than a minute to make your own theme!
This Live Wallpaper offers:
¤ Optimized for Tablets and Smart-phones
¤ Full 3D OpenGl 2.0 Engine (required!)
¤ Tons of settings!
¤ Change Frames per Second FPS
¤ 8 preset Themes (see promotional video)
-Harmonic Bronze Wave
-Golden Popping Cubes
-Hovering Silver Cubes
-Spinning Polished Cubes
-Frosty Cubes
-Black Cubes
-Liquid Metal Cubes
-Red Bronze Cubes
¤ Customize your own theme!
¤ Choose background color
¤ 14 different metallic textures to choose from
¤ Full control of animations
¤ Cubes translates and rotates in 3D
¤ Choose number of cubes in 3D
¤ Choose between 11 types of preset animations
¤ Customize camera position and movement
¤ Responds to your phone screen-offset
¤ An activity to set your live wallpaper
¤ …and much more
Get this unique live wallpaper today!
Preview
Screenshots